Specializing in Herniated Disc Treatment
What is a Herniated Disc?
A
herniated disc
is a common cause of neck and back pain. Often referred to as a bulging disc or slipped disc, a herniated disc most commonly occurs in the lower back and neck.
A lumbar herniated disc is a herniated disc in the lumbar (lower back) region of the spine.
A cervical herniated disc is a herniated disc in the cervical (neck) region of the spine.
A herniated disc can be a serious medical condition. Patients who are experiencing the symptoms of a herniated disc should make an appointment with a herniated disc doctor or specialist so their condition can be officially diagnosed. Board Certified Neurosurgeon and Spine Expert,
Dr. Anthony Virella
is an expert in disc herniation and offers multiple treatment options for herniated discs.
What are the Symptoms of a Herniated Disc?
Intervertebral discs lie between adjacent vertebrae. They help the spine move and act as "shock absorbers" that reduce the load placed on vertebrae during weight-bearing activities. Each intervertebral disc is composed of an outer connective tissue layer and an inner gel-like nucleus. When a disc herniates, the inner nucleus protrudes posteriorly (towards the back) into the spinal canal. This puts pressure on the spinal nerves and may cause any of the following symptoms:
Pain
Extremity weakness, numbness, or tingling
Sciatica (lumbar herniated disc)
Radiculopathy (cervical herniated disc)
Burning pain in the shoulder, arm, or hand (cervical herniated disc)
Each of Dr. Virella's patients receives his undivided attention and a customized treatment plan geared towards quickly eliminating their symptoms.
What are Herniated Disc Treatment/Procedure Options?
A herniated disc may first be treated using nonsurgical options. Most commonly, a combination of the following is used:
Rest
Pain and/or anti-inflammatory medications
Physical therapy
When a herniated disc does not respond to nonsurgical treatment options, Dr. Virella may recommend that patients undergo a Minimally Invasive herniated disc procedure. Dr. Virella is an expert at performing
minimally invasive herniated disc surgery
and is one of Southern California's top neurosurgeons.
If you are ready to find a solution to your back, neck or spine condition contact us to make an appointment with Dr. Virella. With three convenient locations in Agoura Hills, CA, Valencia, CA, and Palmdale, CA, making an appointment is easier than ever.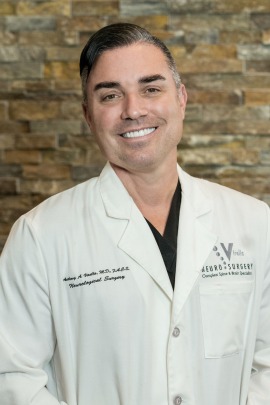 Anthony Virella, MD

Anthony Virella, MD is a Board-Certified, Fellowship Trained Neurological Spine Surgeon with advanced training in the management spinal disorders. He is also a graduate of the UCLA Neurosurgery Residency Program and completed his Complex Spine Resident Fellowship at the world-renowned Cleveland Clinic Foundation. Additional work included a second Fellowship in Minimally Invasive Spine Surgery at the UCLA Comprehensive Spine Center. Dr. Virella is a nationally recognized spine specialist and has authored numerous articles and lectured nationally and internationally in the field of Complex and Minimally Invasive Spine Surgery.