Specializing in Microdiscectomy Treatments
What is microdiscectomy surgery?
A
microdiscectomy
is a
minimally invasive surgery
that is commonly performed by Dr. Virella to help patients who have a compressed nerve in their back or neck. During a microdiscectomy procedure, Dr. Virella uses microscopic equipment to view and remove portions of a herniated disc that are compressing a nerve root. Patients who undergo the procedure experience symptom relief quickly. The procedure is very effective at reducing extremity pain that is caused by a compressed nerve. Dr. Virella performs the following procedures:
A microdiscectomy of the lumbar spine is used to treat lower back pain and extremity pain, weakness, numbness, and tingling.
A microdiscectomy of the cervical spine is used to treat neck pain and upper extremity pain, weakness, numbness, and tingling.
Dr. Virella is a board-certified neurosurgeon who has developed the skills required to perform these procedures and a special procedure called an endoscopic microdiscectomy. The benefits of an endoscopic microdiscectomy are that it uses very small incisions, visualization equipment, and instruments. Patients who undergo a microdiscectomy or endoscopic microdiscectomy can look forward to symptom relief, a fast recovery, and a smaller scar.
What condition is microdiscectomy surgery used to treat?
A
herniated disc
is a medical condition that is experienced by patients who suffer from moderate to severe stages of the following conditions:
Degenerative disc disease
Osteoarthritis
In some cases, a herniated disc can also be caused by an accident or injury that involves overloading the spine (i.e. lifting a heavy object or falling from a high area). When a herniated disc protrudes into the spinal canal and pinches a nerve root, a microdiscectomy can be performed to decompress the nerve. Symptoms that affect the neck, back and extremities can be significantly reduced or eliminated after a microdiscectomy procedure. Patients who are interested in seeing a microdiscectomy doctor/surgeon and learning more about their microdiscectomy treatment/procedure options are encouraged to make an appointment with Dr. Virella.
If you are ready to find a solution to your back, neck or spine condition contact us to make an appointment with Dr. Virella. With three convenient locations in Agoura Hills, CA, Valencia, CA, and Palmdale, CA, making an appointment is easier than ever.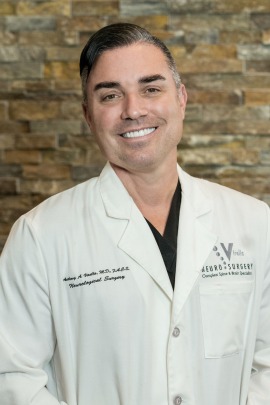 Anthony Virella, MD

Anthony Virella, MD is a Board-Certified, Fellowship Trained Neurological Spine Surgeon with advanced training in the management spinal disorders. He is also a graduate of the UCLA Neurosurgery Residency Program and completed his Complex Spine Resident Fellowship at the world-renowned Cleveland Clinic Foundation. Additional work included a second Fellowship in Minimally Invasive Spine Surgery at the UCLA Comprehensive Spine Center. Dr. Virella is a nationally recognized spine specialist and has authored numerous articles and lectured nationally and internationally in the field of Complex and Minimally Invasive Spine Surgery.