Specializing in Minimally Invasive Cervical Fusion
What is Minimally Invasive Cervical Fusion surgery?
A
minimally invasive cervical fusion
is a surgical procedure used to treat neck or back pain that is associated with movement. During a spinal fusion procedure, Dr. Virella removes pieces of damaged vertebral bone and soft tissue and then fuses adjacent vertebrae using bone graft and small rods and screws. Dr. Virella is one of the top neurosurgeons at performing
Minimally Invasive Cervical Fusion
surgeries.
Dr. Virella uses his medical knowledge and surgical skills to perform these surgeries and provide patients with symptom relief. He performs the above-mentioned surgeries using the following approaches:
An anterior spinal fusion surgery uses an anterior (from the front) approach.
A posterior spinal fusion surgery uses a posterior (from the back) approach.
Dr. Virella performs spinal fusion surgery as a minimally invasive procedure. In most cases, minimally invasive surgery is used to fuse two vertebrae and an open procedure is used to perform a multi-level spinal fusion (a fusion that involves more than two vertebrae).
What conditions does spinal fusion surgery treat?
A spinal fusion is recommended to treat neck or back pain that is associated with movement. A spinal fusion is only recommended when nonsurgical treatment options do not produce symptom relief or the patient is in extreme pain caused by an advanced state of a medical condition. The most common medical conditions that a spinal fusion is used to treat include the following:
Degenerative disc disease
Osteoarthritis
Spinal Stenosis
Spondylolisthesis
In some cases, a spinal fusion doctor/surgeon may use a spinal fusion to treat scoliosis or a spinal fracture, infection, or tumor. Patients who want to know what spinal fusion treatment/procedure options are right for their condition are encouraged to
make an appointment
with Dr. Virella.
If you are ready to find a solution to your back, neck or spine condition contact us to make an appointment with Dr. Virella. With three convenient locations in Agoura Hills, CA, Valencia, CA, and Palmdale, CA, making an appointment is easier than ever.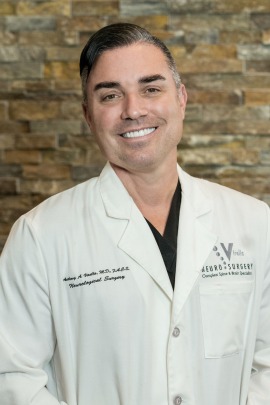 Anthony Virella, MD

Anthony Virella, MD is a Board-Certified, Fellowship Trained Neurological Spine Surgeon with advanced training in the management spinal disorders. He is also a graduate of the UCLA Neurosurgery Residency Program and completed his Complex Spine Resident Fellowship at the world-renowned Cleveland Clinic Foundation. Additional work included a second Fellowship in Minimally Invasive Spine Surgery at the UCLA Comprehensive Spine Center. Dr. Virella is a nationally recognized spine specialist and has authored numerous articles and lectured nationally and internationally in the field of Complex and Minimally Invasive Spine Surgery.