Epidural Steroid Injections
An epidural steroid injection (ESI) is a minimally invasive procedure that can help relieve neck, arm, back, and leg pain caused by inflamed spinal nerves. ESI may be performed to relieve pain caused by spinal stenosis, spondylolysis, or disc degeneration or herniation. The effects of ESI tend to be temporary. Pain relief may last for several days or even years. The goal is to reduce pain so that you may resume normal activities and a physical therapy program.
What is an epidural steroid injection (ESI)?
An epidural steroid injection includes both a corticosteroid (e.g., triamcinolone, betamethasone) and occasionally an anesthetic numbing agent (e.g., lidocaine, bupivacaine). The drugs are delivered into the epidural space of the spine, which is the area between the protective covering (dura) of the spinal cord and the bony vertebrae.
Corticosteroid injections can reduce inflammation and can be effective when delivered directly into the painful area. Unfortunately, the injection does not make a herniated disc smaller; it only works on the spinal nerves
There are three ways an ESI can be performed; transforaminal, interlaminar or caudal. The right type of injection depends on your condition and which procedure will likely produce the best results and the least discomfort of side effects. Fluoroscopy (X-ray) is ALWAYS used to ensure both safety and accuracy.
What are the results?
Most patients experience some pain relief from facet injection, on average lasting form 3-4 months. More importantly, the timing of injections should coincide with the start of physical therapy and/or home exercise program to strengthen the back muscles and prevent future pain episodes.
What are the risks?
As with any procedure, there are both potential risks and benefits. ESI is generally safe and serious complications are rare especially when using proper safety techniques such as fluoroscopy. The potential risks associated with inserting the needle include spinal headache from a dural puncture, bleeding, infection, allergic reaction, elevated blood pressure, nerve damage/paralysis (rare) and death. Corticosteroid side effects may cause weight gain, water retention, flushing (hot flashes), mood swings, insomnia, and elevated blood sugar levels in people with diabetes. Any numbness or mild muscle weakness usually resolves within 3-8 hours in the affected arm or leg (similar to the facial numbness experienced after dental work).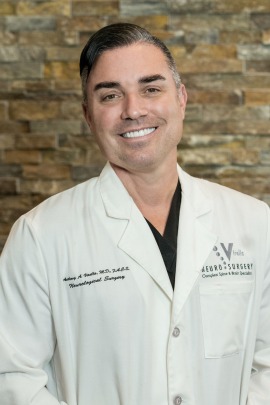 Anthony Virella, MD

Anthony Virella, MD is a Board-Certified, Fellowship Trained Neurological Spine Surgeon with advanced training in the management spinal disorders. He is also a graduate of the UCLA Neurosurgery Residency Program and completed his Complex Spine Resident Fellowship at the world-renowned Cleveland Clinic Foundation. Additional work included a second Fellowship in Minimally Invasive Spine Surgery at the UCLA Comprehensive Spine Center. Dr. Virella is a nationally recognized spine specialist and has authored numerous articles and lectured nationally and internationally in the field of Complex and Minimally Invasive Spine Surgery.