What is a Spinal Cord Stimulator?
A spinal cord stimulator (SCS) is a device that is implanted in the spine. The stimulator sends electric impulses that block pain signaling nerves. An SCS treats chronic back and extremity pain. An SCS is an alternative to surgery and long-term pain medication use.
Our pain specialists perform SCS procedures. Specialists are fellowship trained and board certified. The newest and most effective procedure techniques and devices are used. A successful procedure and pain relief are ensured. The procedure consists of two parts: a trial and an SCS implantation.
Trial Procedure
Used to determine if an SCS will benefit the patient. An electrode is placed in the epidural space. Impulses are sent to the electrode. The patient provides our specialist with sensation feedback. The electrode is placed in a position where it provides maximum pain relief. Pain is monitored for one week. If pain improves, an SCS implantation is recommended.
SCS Implantation
Used to place the SCS in the patient. IV sedation ensures no pain or discomfort is felt. The patient rests comfortably on their stomach. A small lower back incision is made. Two electrode wires are placed in the epidural space. A lower waistline incision is made and a small pocket is created. The SCS is placed in a small pocket. The leads are attached to the SCS. The SCS is programmed perfectly. Incisions are closed.

The patient receives special SCS instructions. The patient returns home shortly after the procedure. Restrictions ensure the electrodes do not move. The patient returns to our center 7-10 days after the procedure to have their stitches removed.
What Conditions Does a Spinal Cord Stimulator Treat?
Our pain specialists have used an SCS to improve countless lives.
An SCS is especially effective at treating:
Chronic neck or back pain
Complex regional pain syndrome (CRPS)
Reflex sympathetic dystrophy (RSD)
Neuropathy
Refractory angina
Failed neck or back surgery
Scheduling and attending an initial consultation is the first step toward receiving an injection therapy treatment solution. A complete medical history will be obtained, a physical examination will be performed, medical imaging tests will be ordered and analyzed. An accurate diagnosis will be made. A customized injection therapy treatment plan will be created just for you.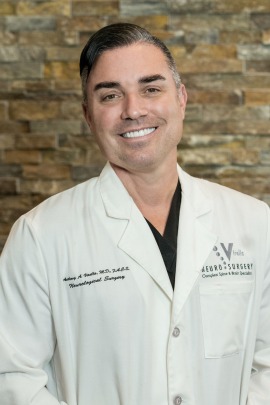 Anthony Virella, MD

Anthony Virella, MD is a Board-Certified, Fellowship Trained Neurological Spine Surgeon with advanced training in the management spinal disorders. He is also a graduate of the UCLA Neurosurgery Residency Program and completed his Complex Spine Resident Fellowship at the world-renowned Cleveland Clinic Foundation. Additional work included a second Fellowship in Minimally Invasive Spine Surgery at the UCLA Comprehensive Spine Center. Dr. Virella is a nationally recognized spine specialist and has authored numerous articles and lectured nationally and internationally in the field of Complex and Minimally Invasive Spine Surgery.