Specializing in Minimally Invasive Laminectomy
What is minimally invasive laminectomy surgery?
Dr. Virella performs a
minimally invasive laminectomy
to help ease pain caused by a compressed spinal cord or nerve root. Often referred to as laminectomy decompression, the procedure is most commonly performed as a minimally invasive surgery.
During the procedure, Dr. Virella makes a small incision to access and view the spine. He uses live x-ray guidance (fluoroscopy) and tiny surgical instruments to remove the back portion of the vertebral wall known as the lamina. Once the lamina is removed and surrounding bone is carefully shaved and smoothed, the spinal cord and nerve roots are no longer compressed. Patients who undergo the procedure experience significant symptom relief following a short recovery period.
The benefits of a
minimally invasive surgery
include less pain and scarring, a shorter surgery time, and a quicker recovery. Dr. Virella frequently performs the following surgeries to help patients with neck, back, and/or extremity pain that does not respond to nonsurgical treatment options:
Laminectomy of the lumbar (lower back) spine
Laminectomy of the cervical (neck) spine
As a leading laminectomy doctor/surgeon in the California, Dr. Virella has helped countless patients improve their symptoms and live a happy, pain-free life.
What conditions does laminectomy surgery treat?
A laminectomy is performed to decompress a compressed spinal cord or nerve root caused by the following:
Spinal stenosis. The narrowing of the spinal canal.
Osteoarthritis. The wear and tear of vertebral bone and soft tissue.
A herniated disc. The protrusion of an intervertebral disc into the spinal canal.
Symptoms that a laminectomy effectively treats include spine and extremity pain, weakness, numbness, and tingling. A laminectomy may also be used to treat sciatica, a condition characterized by a radiating pain in the buttocks, back of the thigh, and leg. Patients who are experiencing symptoms are encouraged to
make an appointment
with Dr. Virella so they can receive an official diagnosis and learn more about their laminectomy treatment/procedure options.
If you are ready to find a solution to your back, neck or spine condition contact us to make an appointment with Dr. Virella. With three convenient locations in Agoura Hills, CA, Valencia, CA, and Palmdale, CA, making an appointment is easier than ever.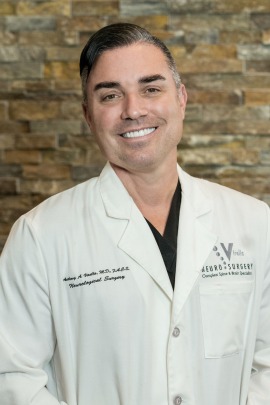 Anthony Virella, MD

Anthony Virella, MD is a Board-Certified, Fellowship Trained Neurological Spine Surgeon with advanced training in the management spinal disorders. He is also a graduate of the UCLA Neurosurgery Residency Program and completed his Complex Spine Resident Fellowship at the world-renowned Cleveland Clinic Foundation. Additional work included a second Fellowship in Minimally Invasive Spine Surgery at the UCLA Comprehensive Spine Center. Dr. Virella is a nationally recognized spine specialist and has authored numerous articles and lectured nationally and internationally in the field of Complex and Minimally Invasive Spine Surgery.