Specializing in Sciatica Treatments
What is the sciatic nerve and sciatica?
The
sciatic nerve
is the largest nerve in the body. It originates in the lumbar (lower back) region of the spine and runs down the buttocks, backs of the thighs, and lower legs. The important job of the sciatic nerve is to supply the leg and foot with nervous system intervention. The term
sciatica
is used to describe pain or other symptoms that are caused by the compression of sciatic nerve roots in the lumbar spine.
What are the symptoms of sciatica?
The most common symptom of sciatica is lower back or hip pain that radiates down the back of the thigh and possibly the lower leg. Other accompanying sensations and symptoms may include any or any combination of the following:
A sharp, stabbing pain
A radiating electrical pain
Cramping
Weakness
Numbness
Burning
Tingling
Dr. Virella
has the education, skills, and experience needed to help patients who are experiencing the symptoms of sciatica. Dr. Virella's custom treatment plans ensure symptoms are eliminated and quality of life quickly improves.
What are sciatica treatment/procedure options?
Dr. Virella commonly prescribes the following nonsurgical sciatica treatment options:
Rest. Slowing down, stopping, or modifying symptom producing activities helps decrease pain.
Injections. Inflammation and pain can be quickly reduced by injecting cortisone and anti-inflammatory medications near compressed sciatic nerve roots.
Sciatica
that does not respond to nonsurgical treatment options may require sciatica surgery. Dr. Virella specializes in
minimally invasive sciatica surgery
. During a
minimally invasive lumbar laminectomy
procedure, Dr. Virella carefully removes portions of a herniated disc that are pinching the sciatic nerve and causing symptoms. Patients who have their minimally invasive sciatica surgery performed by Dr. Virella can expect significant symptom relief in a short period of time.
If you are ready to find a solution to your back, neck or spine condition contact us to make an appointment with Dr. Virella. With three convenient locations in Agoura Hills, CA, Valencia, CA, and Palmdale, CA, making an appointment is easier than ever.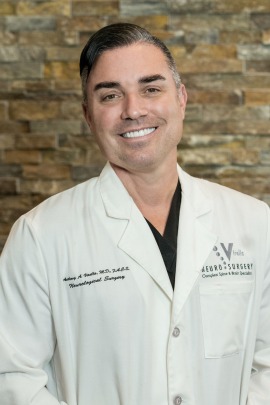 Anthony Virella, MD

Anthony Virella, MD is a Board-Certified, Fellowship Trained Neurological Spine Surgeon with advanced training in the management spinal disorders. He is also a graduate of the UCLA Neurosurgery Residency Program and completed his Complex Spine Resident Fellowship at the world-renowned Cleveland Clinic Foundation. Additional work included a second Fellowship in Minimally Invasive Spine Surgery at the UCLA Comprehensive Spine Center. Dr. Virella is a nationally recognized spine specialist and has authored numerous articles and lectured nationally and internationally in the field of Complex and Minimally Invasive Spine Surgery.