Specializing in Spinal Instability Treatments
What is spinal instability?
Spinal instability
is a condition characterized by abnormal movement between adjacent vertebrae. Patients who have spinal instability usually have symptoms that occur in conjunction with bending, flexing, lifting, and twisting movements.
The facet joints and intervertebral discs of the spine are responsible for moving it. When the facet joints or intervertebral discs are diseased or damaged due to injury, vertebral anatomy changes and movement becomes difficult. In many cases, osteoarthritis can develop and quickly progress. Patients who are experiencing the symptoms of spinal instability are encouraged to make an appointment with Dr. Virella.
What are the symptoms of spinal instability?
Symptom recognition is the first step towards effectively treating spinal instability. Patients who choose Dr. Virella as their spinal instability doctor/surgeon will have all of their symptoms analyzed. Some of the most common symptoms that patients present with include the following:
Neck or back pain
Stabbing pain
Catching and locking sensations while moving
In many cases, nerve compression can be seen with spinal instability. Typical symptoms of a compressed nerve include pain, weakness, numbness, and tingling in the extremities. After Dr. Virella evaluates a patient's symptoms, performs a physical examination, and orders and reviews medical imaging studies, he makes an accurate diagnosis and creates an individualized treatment plan.
What are spinal instability treatment/procedure options?
The goal of Dr. Virella's treatment plan is to eliminate symptoms and treat the condition that is causing them. Dr. Virella treats spinal instability using the following nonsurgical treatment options:
Rest
Physical therapy
Nonsteroidal anti-inflammatory drugs (NSAIDs)
When the symptoms of spinal instability do not respond to nonsurgical treatment options, Dr. Virella may recommend spinal instability surgery. Dr. Virella specializes in Minimally Invasive Spine Surgery (MISS). He is an expert at performing the following MISS procedures:
Minimally Invasive Spine Surgery
include less operative time, less postoperative pain, a shorter recovery, and a smaller small incision/post-surgical scar. Patients who are in pain and are interested in finding a spinal instability treatment/procedure option can contact our office at any time to make an appointment.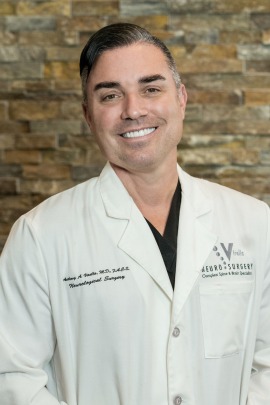 Anthony Virella, MD

Anthony Virella, MD is a Board-Certified, Fellowship Trained Neurological Spine Surgeon with advanced training in the management spinal disorders. He is also a graduate of the UCLA Neurosurgery Residency Program and completed his Complex Spine Resident Fellowship at the world-renowned Cleveland Clinic Foundation. Additional work included a second Fellowship in Minimally Invasive Spine Surgery at the UCLA Comprehensive Spine Center. Dr. Virella is a nationally recognized spine specialist and has authored numerous articles and lectured nationally and internationally in the field of Complex and Minimally Invasive Spine Surgery.