Specializing in Artificial Disc Replacement
What is artificial disc replacement surgery?
Artificial disc replacement
surgery is a new type of spine surgery. It is used to treat a diseased or damaged disc that causes pain and limits movement. Unlike a spinal fusion procedure, a disc replacement preserves motion. In some cases, a disc replacement may be performed on a vertebra above or below vertebrae that have been previously fused. Dr. Virella performs a cervical or lumbar artificial disc replacement using the following steps:
A 1-2-inch anterior incision is made
The disc is removed and the disc space is cleared
The artificial disc is inserted and then fixated using special anchors
Patients experience symptom relief and are able to move without pain after their procedure. Dr. Virella has provided countless patients with a treatment solution using disc replacement surgery.
What conditions does disc replacement surgery treat?
Disc replacement surgery is used to treat spine conditions that cause extremity pain (with or without spine pain) and limit motion. The following conditions are the most common:
Herniated disc. The protrusion of an intervertebral disc into the spinal canal. In many cases, a herniated disc compresses the spinal cord or a spinal nerve root and causes pain, weakness, numbness, and/or tingling in the spine and extremities.
Bone spurs. Bony growths that occur due to osteoarthritis. In many cases, bone spurs can place pressure on the spinal cord or a nerve root and cause symptoms such as those mentioned above.
These conditions can affect both the cervical and lumbar spine. Patients who are experiencing symptoms should make an appointment with an artificial disc replacement doctor/surgeon. Patients who make an appointment with Dr. Virella will receive an accurate diagnosis and learn about all of their disc replacement treatment/procedure options.
If you are ready to find a solution to your back, neck or spine condition contact us to make an appointment with Dr. Virella. With three convenient locations in Agoura Hills, CA, Valencia, CA, and Palmdale, CA, making an appointment is easier than ever.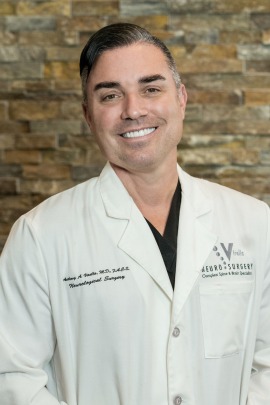 Anthony Virella, MD

Anthony Virella, MD is a Board-Certified, Fellowship Trained Neurological Spine Surgeon with advanced training in the management spinal disorders. He is also a graduate of the UCLA Neurosurgery Residency Program and completed his Complex Spine Resident Fellowship at the world-renowned Cleveland Clinic Foundation. Additional work included a second Fellowship in Minimally Invasive Spine Surgery at the UCLA Comprehensive Spine Center. Dr. Virella is a nationally recognized spine specialist and has authored numerous articles and lectured nationally and internationally in the field of Complex and Minimally Invasive Spine Surgery.