Specializing in Pinched Spinal Nerve Treatment
What is a pinched spinal nerve?
The spinal cord runs from the brain to lumbar region of the spine. Nerve branches of the spinal cord exit spinal vertebrae to supply the muscles and organs of the body with nervous system intervention. A
pinched spinal nerve
occurs when a nerve branch is compressed or irritated. The most common causes of a pinched nerve are a herniated disc and osteoarthritis.
What are the symptoms of a pinched nerve?
The location of a pinched nerve determines the symptoms it produces. A pinched nerve in the cervical (neck) region of the spine may cause the following symptoms:
Neck pain
Tingling or numbness in the hand or fingers
Shoulder, arm, or hand weakness
A pinched spinal nerve in the lumbar spine/back may cause the following symptoms:
Lower back pain
Radiating pain (sciatica)
Lower back, hip, or leg weakness
Patients who experience the symptoms of a pinched spinal nerve are encouraged to make an appointment with a pinched nerve doctor/surgeon. Patients who make an appoint with
Dr. Virella
can expect to have their condition accurately diagnosed and effectively treated. All of Dr. Virella's patients receive a customized treatment plan that eliminates symptoms and prevents them from returning.
What are pinched nerve treatment/procedure options?
Nonsurgical treatment options for a pinched nerve usually include a combination of the following:
Rest
Physical therapy
Nonsteroidal anti-inflammatory drugs
Corticosteroid injections
When the symptoms of a pinched spinal nerve do not respond to nonsurgical treatment options, pinched nerve surgery may be recommended. The type of surgery Dr. Virella performs depends on the location and cause of the pinched nerve. Common
minimally invasive spine surgeries
that Dr. Virella specializes in include cervical and lumbar
discectomies
and
laminectomies
. Patients who undergo a minimally invasive spine procedure performed by Dr. Virella recover faster and experience symptom relief in a shorter period of time.
If you are ready to find a solution to your back, neck or spine condition contact us to make an appointment with Dr. Virella. With three convenient locations in Agoura Hills, CA, Valencia, CA, and Palmdale, CA, making an appointment is easier than ever.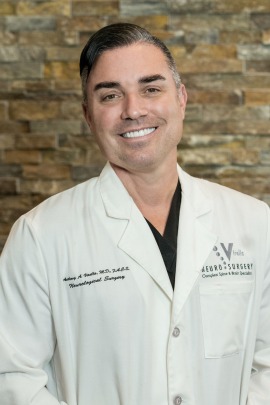 Anthony Virella, MD

Anthony Virella, MD is a Board-Certified, Fellowship Trained Neurological Spine Surgeon with advanced training in the management spinal disorders. He is also a graduate of the UCLA Neurosurgery Residency Program and completed his Complex Spine Resident Fellowship at the world-renowned Cleveland Clinic Foundation. Additional work included a second Fellowship in Minimally Invasive Spine Surgery at the UCLA Comprehensive Spine Center. Dr. Virella is a nationally recognized spine specialist and has authored numerous articles and lectured nationally and internationally in the field of Complex and Minimally Invasive Spine Surgery.