Specializing in Spondylolisthesis Treatment
What is spondylolisthesis?
Spondylolisthesis
of the spine (neck/back) is a condition characterized by one vertebra sliding forward over another. The lumbar or lower back vertebrae are those that most commonly experience spondylolisthesis. Spondylolisthesis is typically categorized as one of the following:
Congenital spondylolisthesis. The condition is present at birth or develops during childhood.
Degenerative spondylolisthesis. The condition occurs due to degenerative processes (i.e. osteoarthritis) or an accident, injury, trauma.
Dr. Virella is a spondylolisthesis doctor/surgeon who provides suffering patients with long-lasting or permanent symptom relief.
What are the symptoms of spondylolisthesis?
Spondylolisthesis
may cause a variety of symptoms. The most common of which include the following:
Lower back pain
Lower extremity pain or weakness
Tight hamstring muscles
Posture abnormalities
Serious cases of spondylolisthesis may impair bowel and bladder functions. Gait patterns and motor skills may also be affected if spondylolisthesis is left untreated.
What are the treatment/procedure options for spondylolisthesis?
Nonsurgical treatment of spondylolisthesis usually involves a combination of the following treatment options:
Rest
Physical therapy (strengthening of the core and lower back muscles)
Pain medications or nonsteroidal anti-inflammatory drugs (NSAIDS)
Weight loss
Surgical treatment is usually recommended to treat severe spondylolisthesis, spondylolisthesis that has pinched a spinal nerve root or the spinal cord, and/or spondylolisthesis that causes extreme pain.
Dr. Virella
is an expert at performing spondylolisthesis surgery. The most common
minimally invasive surgeries
he performs include a nerve decompression and
minimally invasive spinal fusion
. The goal of a nerve decompression is to take pressure off a compressed nerve. The goal of a spinal fusion is to improve spinal stability by fusing adjacent vertebrae.
Patients who undergo minimally invasive surgery with Dr. Virella typically experience a marked improvement in symptom severity in a short period of time. They are able to recover and return to normal activities faster than patients who undergo traditional spine surgery. Dr. Virella has helped hundreds of patients with spondylolisthesis return to a normal, pain-free life.
If you are ready to find a solution to your back, neck or spine condition contact us to make an appointment with Dr. Virella. With three convenient locations in Agoura Hills, CA, Valencia, CA, and Palmdale, CA, making an appointment is easier than ever.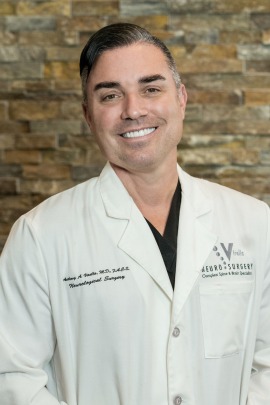 Anthony Virella, MD

Anthony Virella, MD is a Board-Certified, Fellowship Trained Neurological Spine Surgeon with advanced training in the management spinal disorders. He is also a graduate of the UCLA Neurosurgery Residency Program and completed his Complex Spine Resident Fellowship at the world-renowned Cleveland Clinic Foundation. Additional work included a second Fellowship in Minimally Invasive Spine Surgery at the UCLA Comprehensive Spine Center. Dr. Virella is a nationally recognized spine specialist and has authored numerous articles and lectured nationally and internationally in the field of Complex and Minimally Invasive Spine Surgery.