Specializing in Discectomy Treatments
What is a discectomy?
A
discectomy
surgery is one of the most historically common types of spine surgeries. It is used to treat a cervical or lumbar nerve root that has been compressed by a herniated or bulging disc. Dr. Virella is an expert at performing the following discectomy procedures:
A discectomy of the lumbar spine is used to treat a compressed nerve in the lower back
A discectomy of the cervical spine is used to treat a compressed nerve in the neck
Both procedures drastically improve or completely eliminate spine and extremity pain, weakness, numbness, and tingling.
Dr. Virella can perform the procedures as an open surgery, minimally invasive surgery, or endoscopic discectomy.
During the procedure, Dr. Virella exposes and views the herniated disc and compressed nerve. He then uses his surgical skills to carefully remove the portions of the disc that are compressing the nerve. Special sutures are used to carefully close the tiny incisions. In some cases, patients are able to return home the day of their surgery. In others, an overnight stay in the hospital is necessary.
What condition is a discectomy used to treat?
A
herniated disc
is a medical condition that is caused by degenerative changes in the spine and accidents/injuries that overload the spine. The intervertebral discs are soft structures that lie between adjacent vertebrae. The key functions of the discs are to aid movement and reduce the load placed on the vertebrae. Each disc has two parts: an outer rim of cartilage and an inner gel-like nucleus.
A herniated disc occurs when the inner nucleus of a disc pushes through the outer rim and protrudes into the spinal canal. In many cases, a herniated disc will pinch one of the spinal nerve roots in the spinal canal and produce pain, weakness, numbness, and tingling in the neck, back, or extremities. Patients who experience these symptoms are advised to make an appointment with Dr. Virella, a nationally known discectomy doctor/surgeon, to learn about their discectomy treatment/procedure options.
If you are ready to find a solution to your back, neck or spine condition contact us to make an appointment with Dr. Virella. With three convenient locations in Agoura Hills, CA, Valencia, CA, and Palmdale, CA, making an appointment is easier than ever.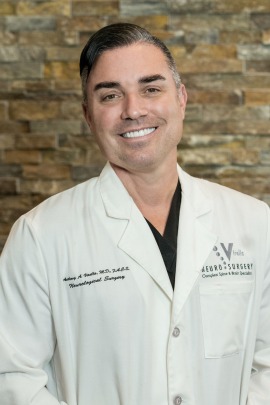 Anthony Virella, MD

Anthony Virella, MD is a Board-Certified, Fellowship Trained Neurological Spine Surgeon with advanced training in the management spinal disorders. He is also a graduate of the UCLA Neurosurgery Residency Program and completed his Complex Spine Resident Fellowship at the world-renowned Cleveland Clinic Foundation. Additional work included a second Fellowship in Minimally Invasive Spine Surgery at the UCLA Comprehensive Spine Center. Dr. Virella is a nationally recognized spine specialist and has authored numerous articles and lectured nationally and internationally in the field of Complex and Minimally Invasive Spine Surgery.