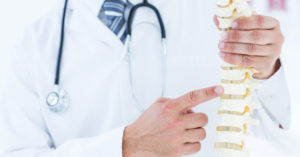 Before 1990, spine surgery was performed as an "open procedure". A 5-6-inch incision was used to allow the surgeon to view the area he or she was operating on. Today, thanks to
Minimally Invasive Spine Surgery (MISS)
, this type of muscle traumatizing approach isn't always necessary. Three surgeries that can now be performed minimally invasively are:
Minimally Invasive Lumbar Discectomy
Symptom producing herniated discs in the lower back can be removed by performing a minimally invasive lumbar discectomy. During the procedure, the surgeon first makes a 1-inch incision to view the nerve-compressing herniated disc. Then, tiny instruments are used to remove the disc and pieces of bone, cartilage, and soft tissue. Following the procedure, patients report a decrease in symptoms, such as pain, weakness, and numbness in the back and legs.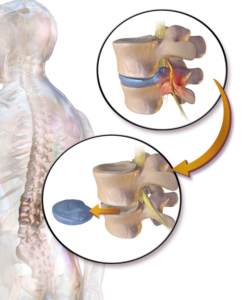 A lumbar discectomy
Minimally Invasive Cervical Discectomy
A cervical discectomy is essentially the same as a lumbar discectomy. The two main differences are (1) a cervical discectomy removes a herniated cervical disc (2) symptom relief occurs in the neck and upper extremities.
Minimally Invasive Lumbar Fusions
A lumbar fusion can be described in three simple steps:
Step 1. The surgeon makes a small incision and removes the nerve compressing vertebral disc(s) as well as any bone spurs that may be causing spinal nerve irritation.
Step 2. The surgeon replaces the removed bone and cartilage with bone graft.
Step 3. The surgeon joins the adjacent vertebrae using small screws and plates.
Nerve function and spine anatomy have resorted once the spine is fused. When compared to patients who undergo open lumbar fusions, patients who undergo
minimally invasive lumbar fusions
: experience less post-surgery pain and recover faster.
Candidates for Minimally Invasive Spine Surgery
Those who suffer from a herniated disc, spinal stenosis, and/or severe vertebral arthritis that hasn't responded to non-surgical treatment may be candidates for MISS. If you are one of these patients, it's advised that you schedule an appointment with a
Neurosurgeon who specializes in MISS
. Their skills, knowledge, and experience are needed to properly diagnose and treat surgery requiring spine conditions/injuries. You can expect a full recovery when in the right hands.
Dr. Anthony Virella
is a Board-Certified, Fellowship trained Neurological Spine Surgeon with advanced training in the management of complex spinal disorders. He attended medical school at Columbia University College of Physicians and Surgeons and is a graduate of the UCLA Neurosurgery Residency Program. Dr. Virella is a nationally recognized specialist in the field of Minimally Invasive Spine Surgery. Virella Neurosurgery has offices in Agoura Hills, Valencia and Palmdale, CA.
Contact us today!